I am amazed, humbled, and slightly freaked out by the huge turn out of commenters! You got me close enough to PW's fame of 847 comments to make me feel all warm and mushy inside. I enjoyed reading through every note and hearing why you came and how I know you. Some of you I have never met, but don't worry, we'll be fast friends in no time. From what you said, it seems like my original purpose of starting my blog nearly 5 years ago is still valid: to give me a place to post pictures of my kids and other photography, and also to write about real life motherhood -- the hardest job in the whole world.
I get a little freaked out when I think of how many people are stopping here. I've talked about quite a few personal things... something about flapping skin and butt cracks is coming to mind. My husband is a very private person and is probably my only male reader (oh, and my dad who just looks at the pictures of his beautiful grandkids). My wonderful husband reads my blog faithfully and occasionally shakes his head in wariness at the things I publish. We've had quite a few discussions on what I should throw out for the world to see and what I shouldn't -- referring to words, that is, not loose skin. When he reads through the comments and also personal emails from people who enjoy coming here, he is convinced that this blog has a purpose. And if I can be an encouragement to others by just sharing real life, it is all worth it to me.
Like I said before, I have virtual blog posts floating around in my head constantly. If only I had time to sit down and write them. Writing is my therapy and I can't get through a post without being reminded of my blessings. It is hard to always be thankful. Bag Balm anyone? This post has been in progress since 7:30am. What is it now? Time for bed, I think. I want to write about the Confessions of a decorating meddler and more Confessions on emergency meals and so much more than I can name. The only problem is -- and that "only" is a big one -- I find myself precariously short on time. I blame some of it on my third child. Darling as he is.
When people warned me before his birth,
"Your hands will be full,"
or
"You sure will be busy,"
I wanted to prove them all wrong. Someday perhaps my first reaction will not resemble the attitude of a small child.
"I can have a third child without missing a beat. I'll start exercising like a mad woman 2 weeks after he is born, take an exotic trip to Cancun, say 'yes' to 2 photo shoots that are impossibly over my head, do 5 photography sessions for families while professing to be on maternity leave, and whine about not getting comments on my blog and then not have time to put up a new post...".
You know. Stuff like that.
Even Remington is looking at me like I've gone crazy. And he adores me, thinking I can do no wrong as his one and only amazing mother, supplier of his food.
I probably should have said "no" to the wedding. I've been asked by a few brave souls to do photography for their weddings and I couldn't do it in the past for one reason or another. A friend of mine is a wedding coordinator extraordinaire and referred me to a couple who was getting married in early November and had yet to secure a photographer. I quoted them a price that seemed high to me and they still wanted me to do it. I must confess, it was very difficult. It was the darkest, rainiest day ever and we couldn't do any pictures outside. My experience with indoor photography is limited. Plus, the church was very dark and when I fired my speedlight, shadows appeared like hallows over everyone's heads. While I took the pictures, I was panicking. Add a nursing newborn to the mix and call it a day. I should have charged more. Now I know why wedding photographers charge thousands of dollars. I'll take pictures for another wedding if anyone asks in the future, but there is a lot I will do differently. I am very thankful that the pictures turned out and the bride and groom were happy with them.
Photo shoot #2 that was way over my head was for a guy from church. He asked me to take pictures at his business where they make display wracks. He wanted a photo of the employees in front of the building and "a couple of our machines" for their website. The employee pictures were very easy for me... the pictures of the machinery were another story. I am not an industrial photographer. Truth be known, I have never taken pictures of diamond blades, welding, arcing flames or anything of the sort. I was really relieved when it was over and even more relieved when I got home and the camera revealed some passable pictures. I was annoyed at myself because the price I quoted the business owner was too low for the work I put into the shoot. When we talked later he told me to double my bid on the invoice and they would pay accordingly. Score. That made it almost worth it.
More of my time has been pleasantly spent taking pictures for families. I enjoy that a great deal because I know how important great pictures are, especially to an over-worked mom. You can check out my latest work on my photography blog by
clicking here
.
The days go smoothly and I can get through them
"without missing a beat"
when I don't try to add more than feeding my family and doing laundry. Here are some things I've been trying to cram in:
homeschooling Emma. She loves to write letters and can now spell her whole first name, all 9 letters of it.
potty training Mandy. Mandy hates her diaper and throws a major fit when I change it. I let her wear underwear and she can go hours and hours without going pee. Of course I make her try to go often and then she promptly has an accident. She'll get it one of these days I am sure. In the meantime, "Clean up on isle 4."
cleaning the house. I try to pick up at the end of the day. That way our house is nice while we sleep at least. The norm is that the house gets messy behind me as I am cleaning in front of me.
exercise. Beyond multiple trips up the stairs to the girls' room and trips down to the basement, I haven't been doing much. I said goodbye to Zumba for the time being, but would love to get back to it. I'll be sitting somewhere between maternity pants and skinny jeans for awhile I fear.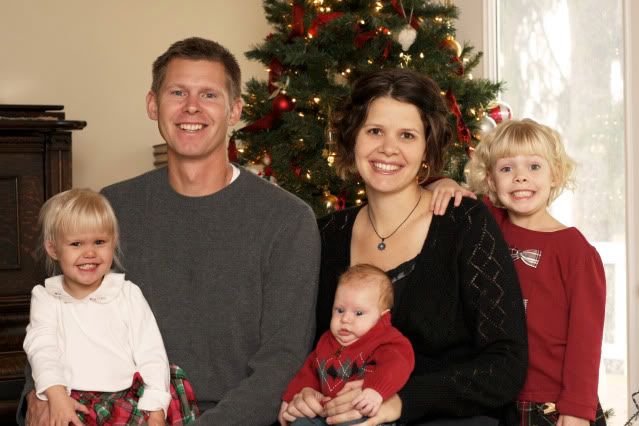 This is the best the timer on the camera can produce. There is only so much I can do with photoshop. I just hope that Emma forgives me someday for this photo. At least everyone who gets one of our Christmas cards will get a hearty laugh. It's good to do that at this time of year. Bye for now,