Back to my sweet Remi. I lost my heart somewhere in his neck rolls. Kinda smelly in there, but my heart doesn't seem to mind.
Some 5 month stats in between the preciousness:
Weight: 16.8 pounds
Height: 27 inches
Major accomplishments:
Completely wooing all the females in this house along with all those he meets. Seriously, the guy charms the socks off random women in the grocery store. And the nice ladies in the MOPS nursery nearly tripped over their walkers while fighting to hold him when I dropped him off yesterday. Mr. Popular just sits back and enjoys the attention giving them what they want: grins and giggles. He also gives them a lot of spit up, yet no one complains.
His daddy thinks Rem is pretty awesome too because he can army crawl at 5 months. He 'da man. Remi can make it across the room, do a flip turn and go back. We are all amazed at him.
Rolling front to back, back to front. He can go where he pleases, except when he flips over in his crib in the middle of the night. Suddenly he forgets all his skills. And since I lost my heart long ago, I go help him out. While I'm there, he convinces me it's been hours since his last feeding. Hours, mother. My neck rolls will dwindle.
Solid-ish food: rice cereal. Divided and conquered.
This is Rem's pet moose. A friend from Canada gave it to us when Mandy was a baby. For whatever reason, he really loves the moose.
And because I know what everyone is really after....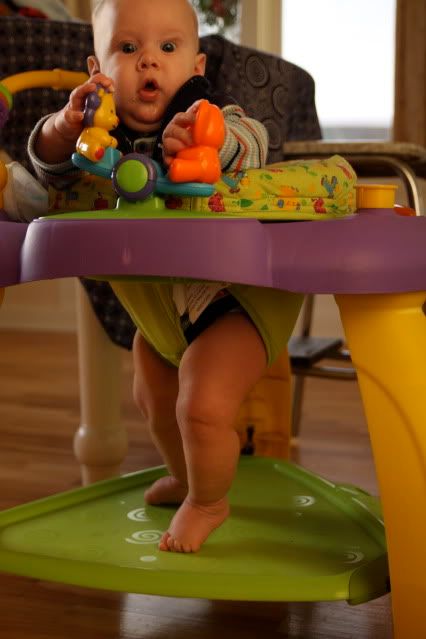 Here is a picture of those hunka-hunka burnin' love, chubby legs.