I have high aspirations for my children.
First, I desire that they learn to love the Lord their God with all their hearts, souls, and minds.
After that I'm okay with whatever they want to do. Emma can move to Africa and save the world. Mandy can dye her hair pink. Remington can be anti-guns if he wants to (it would be a little hard to accept, but we could adjust).
But what I hope for and dream of is that someday my children will call and ask me for a recipe.
Any recipe will do. My pot roast, the delicious oatmeal that only I can make "just right," or Grandma's chicken bake. It is just that asking for a recipe is a loaded question. To me it says,
"1) you are a fantastic cook, oh blessed mother, 2) my childhood was blissful thanks to you, oh blessed mother, and 3) I'm needing some comfort food because I miss you, oh blessed mother."
About 8 years ago, I called my own blessed mother and asked her for her recipe for Corn Chowder. My mom was/is a fantastic cook and I was missing her, missing my childhood, and simpler things. I just needed some comfort food and that chowder was what I craved.
I recently found the scratch paper envelope where I wrote down what she told me. It's really simple:
1 quart water
potatoes
ham
1 can corn
1 quart milk + corn starch to thicken
salt and pepper
As with all the cooking I do, I have a hard time leaving well enough alone. I make this recipe (or something similar) often during the winter. I change a few things and this is Mom's Chowder Perfected: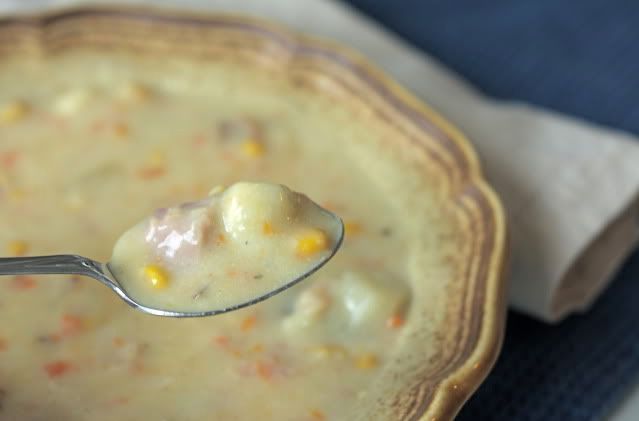 1 quart chicken broth
1/2 tsp. pepper
1 tsp. dried marjoram or rosemary
2 cups chopped cooked ham or a few strips of bacon cooked and cut up
3-4 medium potatoes cut up bite sized (skins on)
3 medium carrots, diced small (skins on)
Bring to a boil and cook until potatoes and carrots are almost tender, about 15 minutes.
Add:
1 can corn with juices
1 quart cold milk + 4 Tbs. corn starch
Bring to a simmer until thickened.
It is even better the next day and makes plenty for leftovers. But it is a great, hearty soup that is ready in just over 15 minutes. I usually throw some corn bread in the oven as I'm starting the soup. Voila. Dinner is served. Emotional needs are met. Family is satisfied. Mission accomplished.
What foods do you crave from your childhood?