Here are some of my favorite pictures from the wedding. I even got in one...
Melanie is a beautiful girl, accustomed to working in rural Africa where makeup is definitely not required. She had fun dressing up for this special occasion. Her friend did her hair and I enjoyed being a fly on the wall -- a fly with a super big camera and jumbo flash. Don't mind me. Just act natural.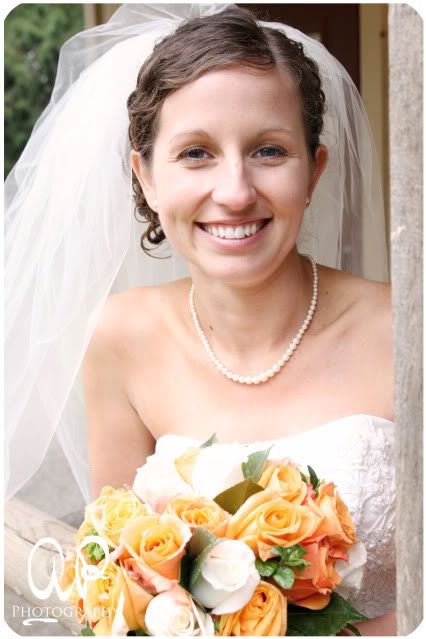 The wedding was at Black Lake Bible Camp in Olympia. It was a fantastic location for a wedding because all the out of town guests were close an stayed on site. Melanie and her family and friends shared a large house at the camp where all the girls got ready together.
Emma came over to get ready from my parent's house nearby and when I opened her bag, her dress and accessories were not inside. I knew, knew, knew I put them in there. I quizzed her and she didn't remember where they were. She had tried on the outfit every day since buying it a few weeks ago and I had no idea if she had taken it out after I packed it. My heart stopped beating. A quick call found the dress hanging up at my moms.
Next time I photograph a wedding, if there is a next time, my family is not invited. Whew.
The ceremony was at the Harmony Springs Chapel. This section of the camp is designed to look like an Old West town. I loved this location for a wedding.
The wedding started at noon in the little chapel. The family and friends who were gathered were all very excited for this event. Phil is working in Kenya and Sudan with Samaritan's Purse and Melanie just finished a project also with SP in Uganda. Phil and Melanie were engaged in December in Paris. Distance and time couldn't stop their love. This day felt blessed. I was in awe that I got to capture their wedding day.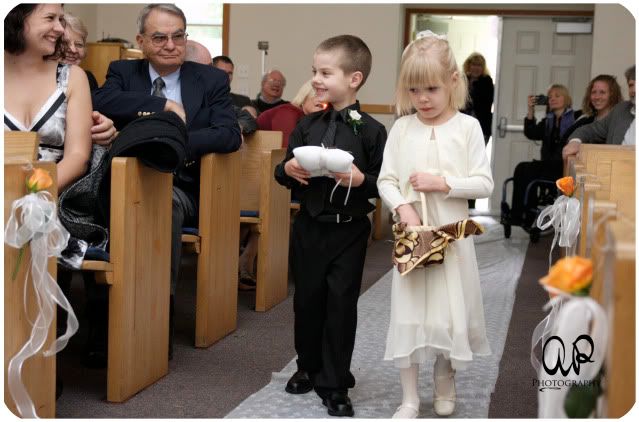 Benton was the ring bearer and I love this look he is exchanging with his mom. "I'm totally good at this," he is thinking. Emma was concentrating hard on her role as flower girl. Too bad we didn't rehearse the actually flower sprinkling. The isle was clear, but she put them on the stage instead.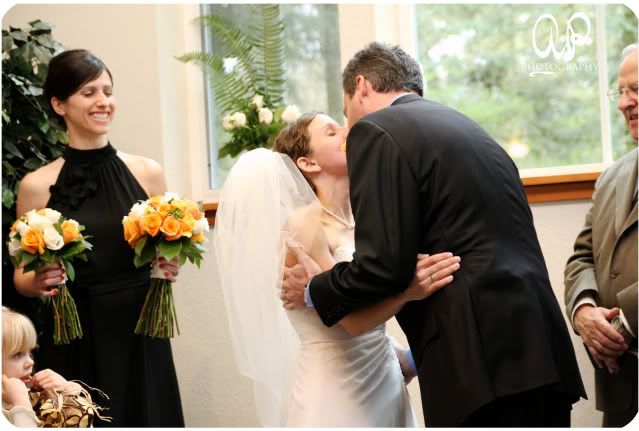 The ceremony included 2 beautiful songs, communion, and the exchanging of the vows. And there is Emma eating her flower basket.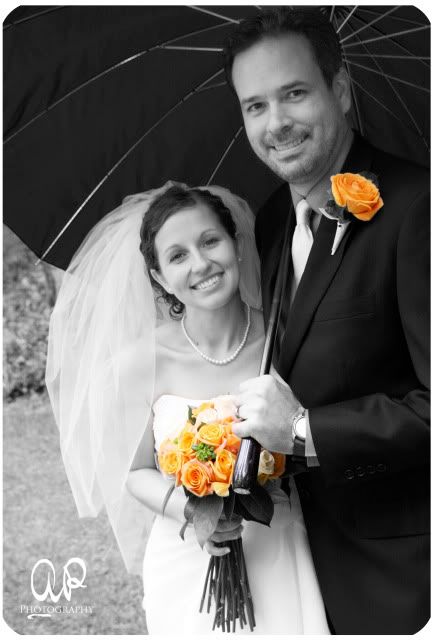 Afterward I took pictures of the wedding party and the families. Phil and Mel chose to wait until the wedding to see each other, it is always so special when couples do that. It leaves less time for pictures, but who cares. The first glimpse as the bride comes down the isle is sacred.
It was still raining hard, but we escaped outside for pictures. This huge golf umbrella was a fabulous prop. Where was my umbrella? Hmmm. Getting soaked was worth it.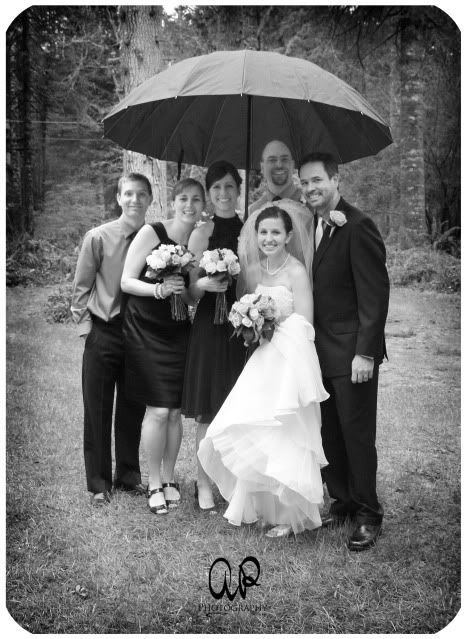 It was a terrific day. I'm very happy that I was able to go along for the ride. Phil and Mel are off on their honeymoon and will then return to Kenya to work with SP.