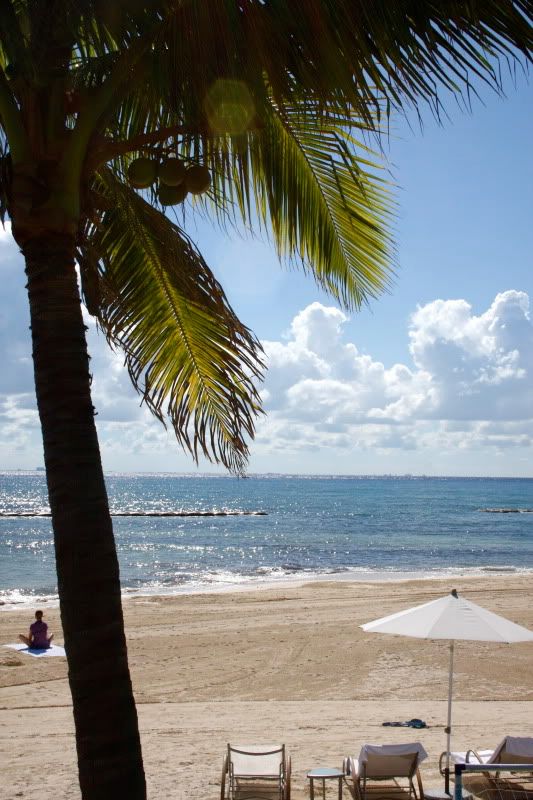 I am thankful for so many things. We just got back from a 5 day trip to Cancun, Mexico to attend the wedding of my cousin. It was the most amazing trip ever. My sunburn is now peeling and is confused for the beginnings of frostbite. The transition home has been hard. I could get used to the luxury of being pampered. In the matter of a few days away I had my first massage, first pedicure, and first room service. But we have the memories...
To understand why we made this long journey with our 6 week old baby, I have to explain a bit about my family. My great-grandparents had 10 children over 23 years, 9 who survived to adulthood. My grandmother is the oldest of the girls. Growing up, my great grandparents lived in the same town as us and my grandmother's siblings and their families often came to visit. We had frequent family reunions, making this huge extended family very close. Because of the age span between the children, my grandmother was having her first children at the same time as her mother (my great grandmother) was having her last children.
* This is where is gets confusing. *
So, my dad has aunts who are similar to him in age making their children similar in age to his children -- that would be me and my sister. It was my dad's first cousin who was married in Cancun last week. And my dad's first cousin is my first-cousin-once-removed.
* Are you still with me? *
My sister and I with my grandma. Gotta love the sunburns!
I have great memories with this family. The laughter and good food was over-flowing. I keep in contact with all my cousins (some are listed in the blog list), but we don't get to see them much any more since my great grandmother passed away. I knew this wedding excursion would be fun, but we almost didn't go. When making the decision, I was 9 months pregnant and miserable. Also, it would be a huge expense. Then my great aunt offered to make it possible by providing accommodations, we decided to go for it. When would we ever have this opportunity again? And to be with family in such an a beautiful location was too much to pass up. Nearly 50 of my family went on the trip including my grandma, parents, and sister and her husband.
Getting the birth certificate quickly and then Remi's passport was difficult and time consuming. Many times I wondered what we were thinking to take our 6 week old baby out of the country for a vacation. The passport came just a week before we left and he was ready to travel.
If you have traveled with a child (or children), you know how hard it is. It takes skills and training and should not be attempted by the faint of heart. I think it should be an Olympic event, both summer and winter games. If it were, Jeff and I would have medaled on more than one occasion. We took the gold medal in the relay event when we traveled with
Emma to Africa
. Then, last year I took an individual gold when I went to 
Tennessee and Washingshton DC
 with Mandy
. Air travel and children provides a unique set of difficulties, but road trips can also be challenging. Like our
trip to Canada
. 
We left the girls with Jeff's parents and departed with Remi on Wednesday last week. Thankfully, Remi is an easy baby. He loves being held and rocked and he didn't make more than a few fussing noises for 5 days. People asked,
"Does he ever cry?"
Nope! He thoroughly enjoyed being an only child. It was really fun to be with him, smiling and talking. We pawned him off with my parents or other family members a couple of times during the trip and they were happy to hold him.
We stayed in 5 star accommodations. Check out this link to the resort:
Grand Velas
. It was out-of-this world beautiful! Jaccuzi tub, down comforter, 50" flat screen tv, free room service, fully stocked mini bar with Frappachinos and Oreos, and bath towels the size of my car.... we really didn't need to leave the room. But we did to lay by the pool and to attend the beautiful beach wedding.
My cousin Demitri and his wife, Amanda, Aunt Valdean, the beautiful bride, Jenny and my cousin Daniel
The wedding was lovely and it made me want to get married again... actually, it made me want to be a wedding photographer in Cancun. On the beach. I can't think of a more perfect job. Oh ya. Perfect job = my husband, home, and 3 beautiful children. Momentary memory lapse. It must be all that sun and Frappachinos.
Remington has momentary memory lapses as well. He completely forgot about home where he isn't held 24/7, where his loving sisters pester him constantly, and where the only thing tropical about the climate is the rain. I caught him dreaming about the perfect weather and all you can eat buffets as he snoozed in his private cabana by the pool. 
I posted a zillion more pictures on Facebook. So, if you are my friend (and I hope you are), check them out there. Like the one with Jeff wearing a tiny little sombrero, pictures of our resort and amazing food, and about 6 pictures of Remington's cutie-pie, smiling double chin.
Now back to
paradise
as it describes our blessed, but normal lives instead of a location. :)

I posted these pics through Photobucket and they are HUGE. Sorry if you have problems viewing them. I'll get back to normal here soon.