Am I getting old? My favorite gift this Christmas was an electric tea pot. I also got a french press coffee maker and a label maker that made my heart beam. We had some fantastic celebrations. Here are a few of my favorite pictures:
This little girl was excited as any child could be about Christmas. She loved wrapping gifts this year. We now need a line item in our family budget for tape. She is a pro, just a bit enthusiastic with the adhesive.
A fun surprise this Christmas was hearing about my cousin Phil proposing to his girlfriend, Melanie, on top of the Eiffel Tower in Paris. They are planning an April wedding. Emma gets to be a flower girl! That is the best present ever in her mind.
The cousins never fail to make me smile. My girls love being with their "friends and cousins," as Emma calls them.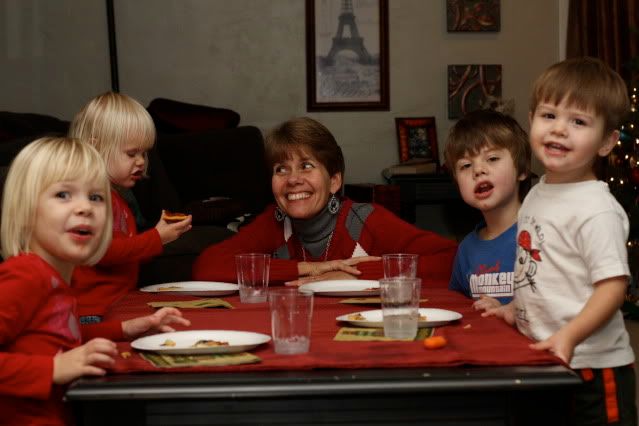 I think grandparents enjoy Christmas almost as much as the kids. Jeff and I are blessed by our parents who all take an active role in spoiling and loving on our kids with their time and with gifts. I don't understand volunteering to sit at the kids' table, but I sure appreciated it!
Watch out for these kids. They are armed and dangerous. Jeff made all the nephews (and Emma and Mandy) rubber-band guns for Christmas. He made them out of the Black Walnut that fell at Grandma's place, so they have some sentimental value to us. It took about 2 nano seconds for all the rubber-bands to be lost. Amazingly just the snap of the clothes-pin triggers were entertainment enough. I have a lot to learn about boys.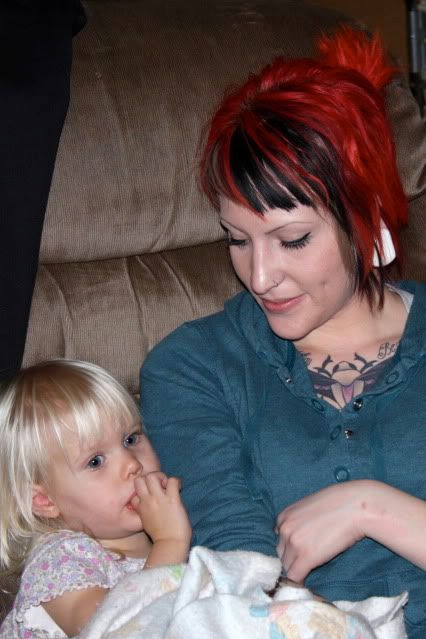 Mandy made a new friend in Michelle, my sister-in-law Kelly's sister. Mandy made a point to chat with Michelle throughout the day and then cuddled up to her after lunch. She even fell asleep beside her new friend. I have no doubt that Mandy will be our wild child. Already at 2 years old, she loves the unexpected and enjoys being different. I think Mandy will look totally cool and beautiful with pink hair (just preparing the grandparents now :).
And this leads me to my favorite picture from this last week. Cousins, Remi (almost 3 months) and Jamin (5 months) hanging out together at their first Christmas.
(Yes, that is Emma in there taking a picture with her new digital camera)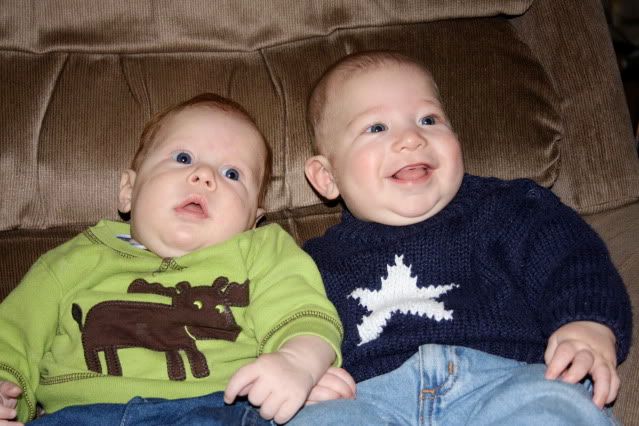 If you follow my blog, you read about
Jamin's struggles
after he was born in July. There were several times that Jamin was brought back after he stopped breathing. I
learned so much
through the ordeal. It is hard for me to think about those days when losing him was a very strong possibility. God is ultimately in control and I imagine we have not even begun to see His purpose with
Jamin's life
. Having Remi and Jamin snuggled up together for a picture was precious. These two smiling boys are such a blessing to all of us.
I am working on the tree today. It is always a bit sad to say "good-bye" to the season, but we have really good memories and fun presents too. We have one more party with Jeff's family that we are looking forward to. Hope you all had a good Christmas!